इमली की खट्टी मीठी चटनी बनाने का आसान तरीका I दहीवडा / चाट के लिए I Imli Chutney
Tamarind Chutney is widely known as Imli Chutney and very famous in India. It is a sweet and tangy sauce and generally served with Chaat. It is also served with Samosa, Kachauri, Dahi Vada etc. One can store it for months.
Ingredients : Interesting facts
Chilli
Chillies are natural pain killers.
National Chili Day is celebrated in U.S. on 4th Thursday in February.
Birds are immune to hotness of Chillies.
Hottest part of Chilli are its interior veins, and not its seeds.
Cumin seeds
Cumin is believed to be originated from Egypt.
It is a drought-tolerant crop and grows in tropical regions.
Although it is called Cumin Seed, it is basically fruit of the cumin plant.
It is commonly known as Jeera in India.
Around 70% of the world's cumin production is done in India.
Sugar
Kids' sugar cravings are rooted in biology. Sugar is the only taste that humans are born craving.
It is used as a food preservative as well.
Natural source of sugar are sugarcane, fruits, honey, dates etc.
Initially, sugar was so rare and expensive only royalty could afford it—and in very small quantities at that.
Ginger
Ginger is a rhizome (an underground stem) and not a root.
India is the largest producer of Ginger.
In India, use of ginger in medicine goes back to ancient times.
Its generic name is "Zingiber". It is derived from the Greek word "zingiberis", which comes from the Sanskrit name of the spice, "singabera".
Salt
Salt is the most common ingredient in our kitchen.
It is present in each and every cell of our body.
Its Latin name is Sal from which the word "salary" is derived. It is believed that in the ancient times, the roman soldiers were paid in salt.
It is essential for life, but its excess intake poses health risk.
Black Salt
Black salt or kala namak is not really black in colour. In its crystal form, it looks purple.
It is also known as "Himalayan black salt".
Historically, it is made from the salt rocks, mined in Himalayas region.
Recipe Details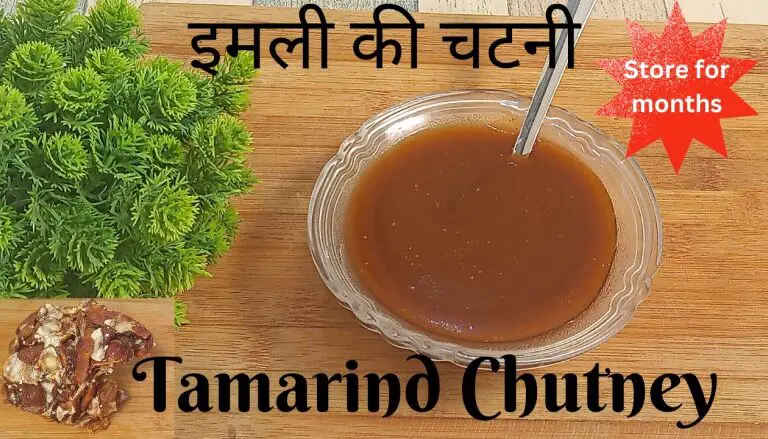 Tamarind (Imli) Chutney
Instructions
Tamarind Paste Preparation
Take a bowl.
Add 1 cup Seedless Tamarind and 2&1/2 cup hot water.
Soak for 1/2 hour.
After 1/2 hour, the tamarind will become soft.
Blend it to fine paste.
Sieve it.
Tamarind paste is ready.
Cooking
Put a pan on gas.
Keep flame low.
Add the below mentioned ingredients:

Oil – 1 tbsp
Dry Red Chilli – 2 nos
Bay leaf – 1 no
Cumin seed – ½ tsp
Fennel seeds – ½ tsp

Now add tamarind paste.
Stir well.
Let it boil.
Not add 1 cup Jaggery and 4 tbsp Sugar.
Cook for 2-3 minutes on low flame.
Now add the below mentioned ingredients:

Roasted cumin powder – 1 tsp
Roasted Fennel powder – 1 tsp
Red Chilli powder – 1 tsp
Dry Ginger powder – ½ tsp
Salt – ½ tsp
Black Salt – 1 tsp

Stir well.
Cook for 10-12 minute on low flame.
Cook until desired consistency is achieved.
Sieve it.
Tamarind (Imli) Chutney is ready
Note
It can be stored in Fridge for 5-6 months.
Recipe Video