Paneer Tikka recipe, पनीर टिक्का, Paneer Tikka on Tawa, Paneer Tikka without Oven-Grill
Paneer Tikka is a delicious tandoori snack made from Paneer and veggies with marinated in spiced yogurt-based. It is popular Indian appetizer. Instead of grilling in oven, this recipe is made on tawa. Marination with spices and curd enhances its flavor and taste. It is a dry dish.
Ingredients – Interesting facts
Paneer
Paneer is also known as Cottage cheese. But unlike other common cheese, it does not melt.
It can be made by curdling the milk with the help of lemon or vinegar and then draining the liquid.
Its texture ranges from soft and spongy to slightly firm and depends on for how long paneer is pressed after draining the liquid.
It is highly perishable product because of high moisture content.
It is an excellent source of protein. For vegetarians, it is a good alternative of meat products.
Lemon
Lemons are a fruit produced by a lemon tree.
The name 'Lemon' has been derived from the Asian word which means 'sour fruit'.
The sour taste of Lemon is because of its citric acid content.
Lemon juice can be used to make beverages, like cocktails, lemonade and soft drinks.
In early times, lemons used to be so rare that wealthy people used to present lemons to each other.
Lemon trees produce lemons throughout the year.
Because of high level of acidity, Lemon is also used for cleaning stains around the house.
Lemon Festival is celebrated in France in the month of February.
Salt
Salt is the most common ingredient in our kitchen.
It is present in each and every cell of our body.
Its Latin name is Sal from which the word "salary" is derived. It is believed that in the ancient times, the roman soldiers were paid in salt.
It is essential for life, but its excess intake poses health risk.
Ginger
Ginger is a rhizome (an underground stem) and not a root.
India is the largest producer of Ginger.
In India, use of ginger in medicine goes back to ancient times.
Its generic name is "Zingiber". It is derived from the Greek word "zingiberis", which comes from the Sanskrit name of the spice, "singabera".
Garlic
The intense smell and pungent taste of garlic comes from the large quantity of sulphur in it.
It has a great importance in Ayurveda.
Garlic is one of the oldest food flavorings used in ancient times.
Garlic is one of the oldest cultivated crops.
National Garlic Day is celebrated on April 19th in USA.
Cumin seeds
Cumin is believed to be originated from Egypt.
It is a drought-tolerant crop and grows in tropical regions.
Although it is called Cumin Seed, it is basically fruit of the cumin plant.
It is commonly known as Jeera in India.
Around 70% of the world's cumin production is done in India.
Black Salt
Black salt or kala namak is not really black in colour. In its crystal form, it looks purple.
It is also known as "Himalayan black salt".
Historically, it is made from the salt rocks, mined in Himalayas region.
Recipe Details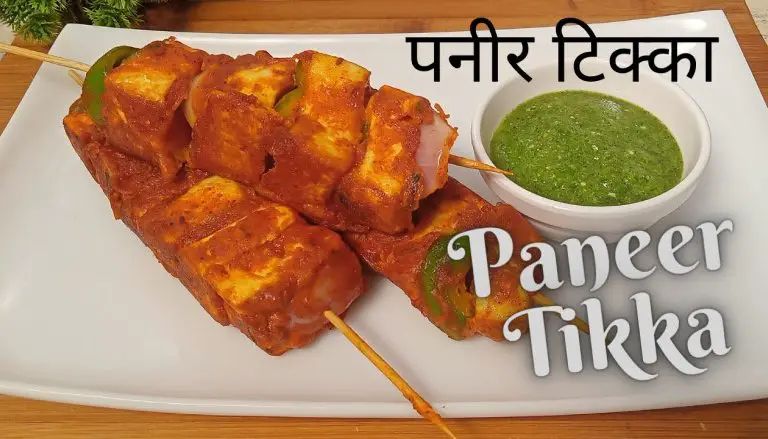 Paneer Tikka
Instructions
Marination
Take a bowl.
Add the below mentioned ingredients:

Curd – ½ cup

Kashmiri Red Chilli powder – 2 tbsp

Turmeric – ¼ tsp

Coriander powder – 1 tsp

Roasted Cumin powder – 1 tsp

Chaat masala – 1 tsp

Tandoori masala – 1 tbsp

Black Salt – ½ tsp

Salt – ½ tsp (as per taste)

Kasuri Methi /Dry Fenugreek leaves – 1 tsp

Lemon juice – 1 tbsp

Crushed Ginger-Garlic – 1 tbsp

Besan (gram flour) – 4 tbsp

Hot Mustard oil- 2 tbsp (instead of Mustard oil any oil can be used)

Mix well.

Now add the below mentioned ingredients and mix gently:

Capsicum – ½ cup

Onion – ½ cup

Paneer (Cottage cheese) – 300 gm

Keep aside for 30 minutes for marination.
Stick Preparation
Take a Skewer.
Arrange the paneer and vegetables on skewer in alternative order as below:
Grilling
Spread a little Oil on a hot tawa.
Place the skewers on tawa
Roast all sides on low flame.
Paneer Tikka is ready.
Recipe Video