Bhindi Masala Fry | भिंडी मसाला फ्राई | चटपटी and Dry | How to Make Perfect Bhindi Masala Fry!
Bhindi fry recipe is very simple, delicious and healthy recipe. This dry bhindi masala recipe is so easy to make.
Ingredients – Interesting facts
Cumin seeds
Cumin is believed to be originated from Egypt.
It is a drought-tolerant crop and grows in tropical regions.
Although it is called Cumin Seed, it is basically fruit of the cumin plant.
It is commonly known as Jeera in India.
Around 70% of the world's cumin production is done in India.
Chilli
Chillies are natural pain killers.
National Chili Day is celebrated in U.S. on 4th Thursday in February.
Birds are immune to hotness of Chillies.
Hottest part of Chilli are its interior veins, and not its seeds.
Garlic
The intense smell and pungent taste of garlic comes from the large quantity of sulphur in it.
It has a great importance in Ayurveda.
Garlic is one of the oldest food flavorings used in ancient times.
Garlic is one of the oldest cultivated crops.
National Garlic Day is celebrated on April 19th in USA.
Salt
Salt is the most common ingredient in our kitchen.
It is present in each and every cell of our body.
Its Latin name is Sal from which the word "salary" is derived. It is believed that in the ancient times, the roman soldiers were paid in salt.
It is essential for life, but its excess intake poses health risk.
Garam Masala
Garam masala is a blend of spices rather than a single spice. It is extensively used in Indian Cuisine, especially in Northern India. All the spices are roasted to release their aromatic flavors. Subsequently they are ground to make its powder form. "Garam" indicates warm and "Masala" indicates spice.
Recipe Details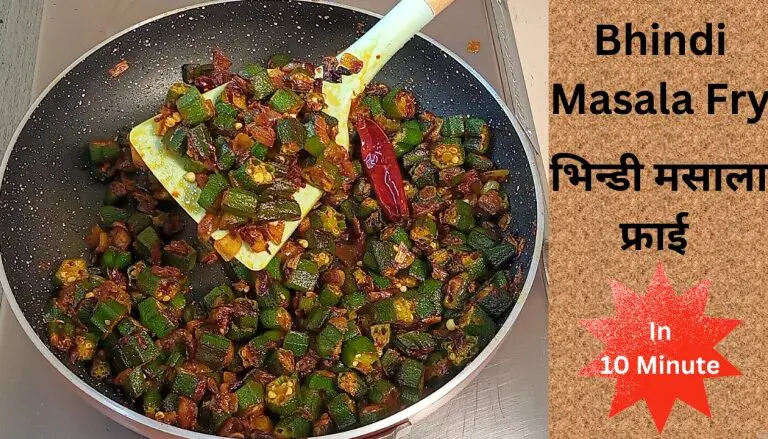 Bhindi Masala Fry
Instructions
Preparation
Wash and dry bhindi (400 gm) with a kitchen tissue.
Cut bhindi in pieces.
Put a frying pan on Gas (on low flame).
Add the following:

Oil – 4 tbsp
Cumin seeds – ½ tsp
Dry red chilli – 2 nos
Grated garlic – 1 tbsp

Saute on low flame for 20 seconds.
Add cut onion (2 nos.)
Saute on medium to low flame for 3-4 minutes.
Keep stirring.
Now add bhindi (400 gm, cut in pieces)
Mix it
Saute on medium flame for 2-3 minutes.
Now add the following:

Turmeric – ½ tsp
Coriander powder – 1 tsp
Salt to taste – 1 tsp
Red chilli powder – 1 tsp
Dry mango powder/Aamchur – ½ tsp
Garam masala – ½ tsp

Mix well.
Cook on low flame.
Cover the lid for 3-4 minutes.
Stir occasionally.
Remove the lid.
Cook another 2 minutes.
 
Bhindi fry is ready.
Recipe Video