Masoor Dal Pakoda II Red Masoor dal ke Pakode II Crispy Masoor dal Pakoda
Masoor dal pakoda or masoor dal vada is a very delicious snacks. It is a perfect tea-time snack. one can prepare it with red lentils and few basic ingredients.
Ingredients – Interesting facts
Ginger
Ginger is a rhizome (an underground stem) and not a root.
India is the largest producer of Ginger.
In India, use of ginger in medicine goes back to ancient times.
Its generic name is "Zingiber". It is derived from the Greek word "zingiberis", which comes from the Sanskrit name of the spice, "singabera".
Garlic
The intense smell and pungent taste of garlic comes from the large quantity of sulphur in it.
It has a great importance in Ayurveda.
Garlic is one of the oldest food flavorings used in ancient times.
Garlic is one of the oldest cultivated crops.
National Garlic Day is celebrated on April 19th in USA.
Chilli
Chillies are natural pain killers.
National Chili Day is celebrated in U.S. on 4th Thursday in February.
Birds are immune to hotness of Chillies.
Hottest part of Chilli are its interior veins, and not its seeds.
Garam Masala
Garam masala is a blend of spices rather than a single spice. It is extensively used in Indian Cuisine, especially in Northern India. All the spices are roasted to release their aromatic flavors. Subsequently they are ground to make its powder form. "Garam" indicates warm and "Masala" indicates spice.
Salt
Salt is the most common ingredient in our kitchen.
It is present in each and every cell of our body.
Its Latin name is Sal from which the word "salary" is derived. It is believed that in the ancient times, the roman soldiers were paid in salt.
It is essential for life, but its excess intake poses health risk.
Recipe Details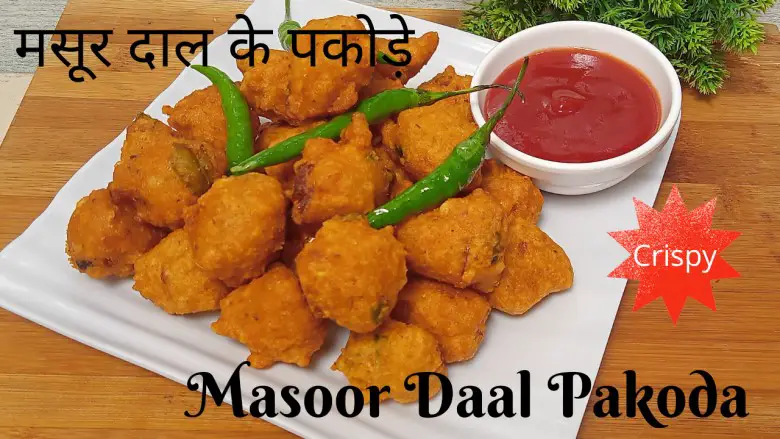 Crispy Masoor Dal Pakoda
Instructions
Soaking
Take 1 cup Masoor Dal.
Wash and soak in water for 3-4 hours.
Strain the water and grind the soaked dal with little water if required.
Grind the dal coarsely, dal should not be very thin or thick.
Transfer it into a bowl.
Batter Preparation
Add the below mentioned ingredients in the bowl:

Onion – 2 tbsp
Crushed Ginger-garlic – 1 tbsp
Green Chilli – 1 tsp
Red Chilli powder – 1 tsp
Coriander powder – 1 tsp
Turmeric powder – ¼ tsp
Roasted Cumin powder – 1 tsp
Carom seeds – ½ tsp
Garam masala – ½ tsp
Salt to taste

Mix them.
Now add 2 tbsp Rice flour, 2 tbsp Gram flour (Besan), 2 tbsp Coriander leaves and mix well.
Frying
Take oil in a pan and heat it on medium flame.
Check the oil temperature by putting a little batter.
Deep fry the pokadas on medium to low flame till golden brown colour.
Masoor Dal Pakoda is ready.
Recipe Video