Aloo Tikki Burger I आलू टिक्की बर्गर I Veg Burger Recipe
Aloo tikki burger is a delicious burger made with boiled potatoes, carrot and green peas with some Indian spices. It is a very popular recipe.
Ingredients – Interesting facts
Chilli
Chillies are natural pain killers.
National Chili Day is celebrated in U.S. on 4th Thursday in February.
Birds are immune to hotness of Chillies.
Hottest part of Chilli are its interior veins, and not its seeds.
Carrot
Carrot is a root vegetable.
Carrots have seeds.
Beta-carotene is released during cooking carrots, which makes carrot even more nutritious.
Holtville, California is known as "Carrot Capital of the World".
Mango:
Mango is one of the ancients' fruit found in India. It is said that around 5000 years ago, the Cultivation of Mango started in Eastern Asia.
Mango is delicious and considered as "King of Fruits".
India is termed as the "Mango Capital of the World" as it tops the list of Mango producing countries.
In 2010, Bangladesh declared the Mango tree as its National Tree.
Mango is National furit of India, Pakistan, and the Philippines.
Some mango tree species can live up to 300 years and continuously produce fruit.
Ginger
Ginger is a rhizome (an underground stem) and not a root.
India is the largest producer of Ginger.
In India, use of ginger in medicine goes back to ancient times.
Its generic name is "Zingiber". It is derived from the Greek word "zingiberis", which comes from the Sanskrit name of the spice, "singabera".
Garlic
The intense smell and pungent taste of garlic comes from the large quantity of sulphur in it.
It has a great importance in Ayurveda.
Garlic is one of the oldest food flavorings used in ancient times.
Garlic is one of the oldest cultivated crops.
National Garlic Day is celebrated on April 19th in USA.
Cumin seeds
Cumin is believed to be originated from Egypt.
It is a drought-tolerant crop and grows in tropical regions.
Although it is called Cumin Seed, it is basically fruit of the cumin plant.
It is commonly known as Jeera in India.
Around 70% of the world's cumin production is done in India.
Salt
Salt is the most common ingredient in our kitchen.
It is present in each and every cell of our body.
Its Latin name is Sal from which the word "salary" is derived. It is believed that in the ancient times, the roman soldiers were paid in salt.
It is essential for life, but its excess intake poses health risk.
Black peppercorns
Black Pepper comes from the dried fruit peppercorn.
Black Pepper is mainly produced in India, Vietnam, Brazil and Indonesia.
Black Peppercorns are green when harvested, and change color while drying.
Pepper loses its flavor and aroma through evaporation. For the best flavor, it may be right before consumption.
As it was so expensive, it was mostly eaten by the wealthy in the past.
Tomato
It is the state vegetable of New Jersey.
Its juice is state beverage of Ohio.
Tomato seedlings have been grown in space.
The world's largest tomato tree was grown in the experimental greenhouse at Walt Disney World Resort.
Tomatoes aren't always red. They can be yellow, pink, purple, black and even white.
La Tomatina is an annual festival in Spain, where people throw tomatoes at each other.
Onion
The oldest know onion harvest dates back to around 5,000 BC, over 7,000 years ago!
The sulfuric compounds in onions cause is to cry when we chop them. Chilling it before cutting reduced this effect.
It was used by Athletes and soldiers in ancient civilizations as a source of power.
These are some of the oldest vegetables that were used by the first modern civilizations.
Recipe Details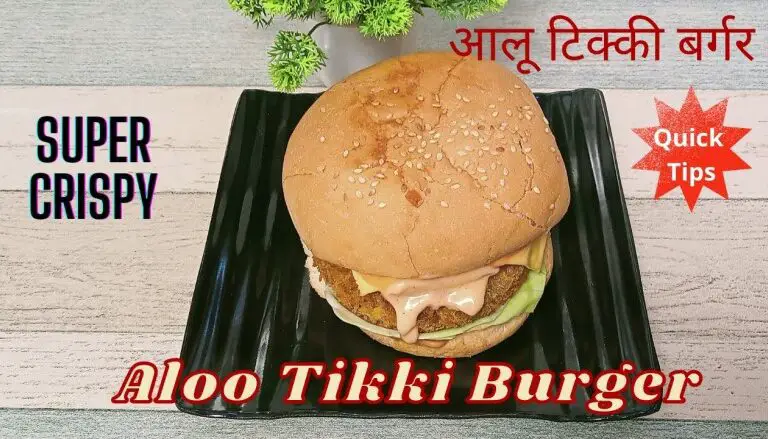 Aloo Tikki burger
Aloo Tikki
Batter
Burger Sauce
Topping
Instructions
Aloo Tikki dough
Take a bowl.
Add the below mentioned ingredients:

Boiled Potato – 2 nos
Grated Carrot – ¼ cup
Frozen Blanched Peas – ¼ cup
Salt -1/2 tsp as per taste
Red chilli powder – ½ tsp
Coriander powder – ¼ tsp
Cumin powder – ¼ tsp
Turmeric powder – ¼ tsp
Mango powder – ½ tsp
Crushed ginger-garlic – 1 tsp
Coriander leaves – ¼ cup
Flattened rice/Poha – ¼ cup

Mash it.
Mix well and form dough.
Aloo Tikki Frying
From Aloo Tikki dough, flat round patties.
Adjust the size of the patty/tikki as per burger bun's size.
Take a bowl and add the below mentioned ingredients:

Plain flour/Maida – 3 tbsp
Corn flour – 3 tbsp
Black pepper powder – ¼ tsp
Salt – ½ tsp as per taste
Oil – 1 tsp

Mix it.
Add water and prepare lump free batter.
The batter should be not very thin or not very thick.
Now dip Aloo Tikki in batter and coat with bread crumbs.
Fry the Tikki on medium flame till golden brown and crispy.
Flip it and fry both sides.
Now Aloo Tikki is ready.
Burger Sauce Preparation
Take a bowl.
Add 2 tbsp Veg mayonnaise and 1 tbsp Red chilli sauce.
Mix well.
Burger sauce is ready.
Burger Topping
Take a Burger bun.
Apply 1 tsp burger sauce.
 May a layer of Cabbage/Lettuce leaf over it.
Put a Aloo Tikki, Tomato slices and Onion slices.
Sprinkle a little chaat masala.
Put a cheese slice.
Apply 1 tsp burger sauce on other part of bun
Cover it with sauce applied bun.
Aloo Tikki Burger is ready.
Note
Poha absorbs moisture.
Bread crumbs can be used Instead of poha.
Bun can be toasted on a tawa with little butter on medium flame, if desired so.
Recipe Video