Zebra Cake | Marble Cake I Eggless Chocolate Cake I Marble Cake Recipe without oven
Marble cake recipe is very easy to make and it looks beautiful. It need very few ingredients and comes out so spongy.
Ingredients : Interesting facts
Sugar
Kids' sugar cravings are rooted in biology. Sugar is the only taste that humans are born craving.
It is used as a food preservative as well.
Natural source of sugar are sugarcane, fruits, honey, dates etc.
Initially, sugar was so rare and expensive only royalty could afford it—and in very small quantities at that.
Milk
It is white because of its fat content.
It will stay fresher if you add salt.
It is the only food that you can survive wholly on.
The world's rarest cheese is made from donkey milk.
June is National Dairy Month.
On a dairy farm, a farmer's day begins and ends with milking the cows.
Salt
Salt is the most common ingredient in our kitchen.
It is present in each and every cell of our body.
Its Latin name is Sal from which the word "salary" is derived. It is believed that in the ancient times, the roman soldiers were paid in salt.
It is essential for life, but its excess intake poses health risk.
Recipe Details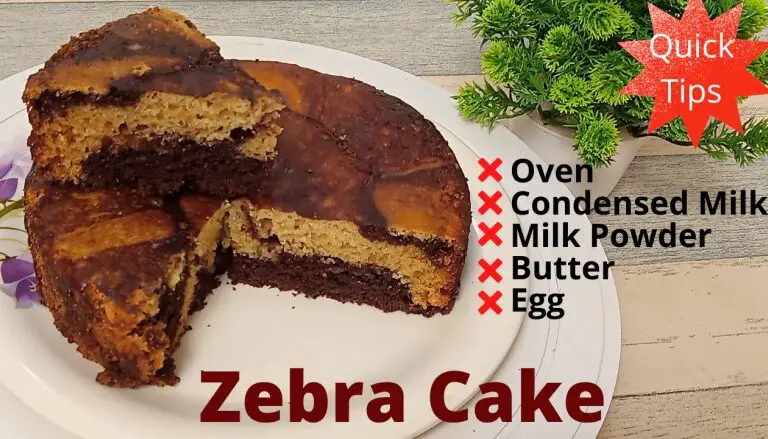 Eggless Zebra Cake without oven
Vanilla Batter Preparation
Chocolate Batter Preparation
Baking
Instructions
Vanilla Batter Preparation
Take a bowl.
Add 12 cup Milk and 1 tbsp Vinegar.
Keep aside for 5 minutes.
Now take 1 cup refined flour in a bowl.
Sieve the below mentioned ingredients in the bowl:

Baking powder – 1 tsp
Baking soda -1/2 tsp
Salt – 1 pinch

Now add 1/2 cup powdered sugar and 1/4 cup refined oil in milk-vinegar mix.
Whisk well.
Add it to the dry mixture of refined flour.
Mix it.
Add 3 tbsp milk and 1 tsp Vanilla essence.
Mix by cut & fold method. Do not over mix.
Mix in one direction.
Vanilla cake batter is ready.
Chocolate Batter Preparation
Take a bowl.
Add the below mentioned ingredienets:

Milk – 1/4 cup
Powdered sugar – 3 tbsp
Cocoa powder – 1/4 cup

Whisk well.
Add half vanilla better into cocoa batter.
Whisk it.
Chocolate cake batter is ready.
Baking
Take a Kadahi or deep pan.
Make a layer of Salt.
Preheat it on medium flame for around 15 minutes.
In the mean time, take a cake tin of suitable size.
Brush the cake tin with oil/butter.
Sprinkle some refined flour. 
Pour half chocolate batter first.
Then pour vanilla batter.
At last, pour remaining half chocolate batter.
Tap the cake tin twice.
Keep the cake tin in preheated kadahi for 50-60 minutes on low to medium flame.
In between, after 35-40 minutes, check the cake insert a toothpick if toothpick come out clean it means cake baked properly.
When cake cools down completely, then unmould.
Marble cake is ready
Recipe Video