Rawa (Suji) toast is a perfect option for breakfast or snacks. It is very quick and simple to make, yet full flavor of veggies. Ingredients like suji, capsicum, carrot, tomato etc. enhance its healthiness as well as taste. At the same time, its crispiness and grainy texture is very well liked by kids. Other veggies can also be added as per taste.
Ingredients – Interesting facts
Chilli
Chillies are natural pain killers.
National Chili Day is celebrated in U.S. on 4th Thursday in February.
Birds are immune to hotness of Chillies.
Hottest part of Chilli are its interior veins, and not its seeds.
Salt
Salt is the most common ingredient in our kitchen.
It is present in each and every cell of our body.
Its Latin name is Sal from which the word "salary" is derived. It is believed that in the ancient times, the roman soldiers were paid in salt.
It is essential for life, but its excess intake poses health risk.
Tomato
It is the state vegetable of New Jersey.
Its juice is state beverage of Ohio.
Tomato seedlings have been grown in space.
The world's largest tomato tree was grown in the experimental greenhouse at Walt Disney World Resort.
Tomatoes aren't always red. They can be yellow, pink, purple, black and even white.
La Tomatina is an annual festival in Spain, where people throw tomatoes at each other.
Carrot
Carrot is a root vegetable.
Carrots have seeds.
Beta-carotene is released during cooking carrots, which makes carrot even more nutritious.
Holtville, California is known as "Carrot Capital of the World".
Garlic
The intense smell and pungent taste of garlic comes from the large quantity of sulphur in it.
It has a great importance in Ayurveda.
Garlic is one of the oldest food flavorings used in ancient times.
Garlic is one of the oldest cultivated crops.
National Garlic Day is celebrated on April 19th in USA.
Ginger
Ginger is a rhizome (an underground stem) and not a root.
India is the largest producer of Ginger.
In India, use of ginger in medicine goes back to ancient times.
Its generic name is "Zingiber". It is derived from the Greek word "zingiberis", which comes from the Sanskrit name of the spice, "singabera".
Recipe Details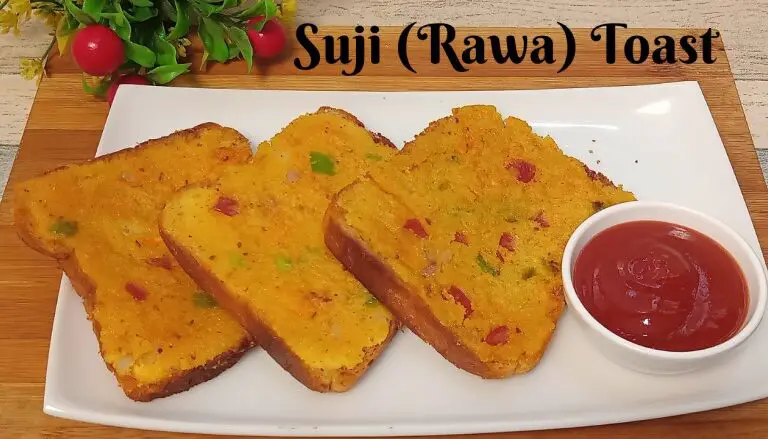 Suji (Rawa) Toast
Instructions
Stuffing Preparation
Take a bowl.
Add Suji/Rawa (1 Cup), Curd (½ Cup) and Water (½ Cup.
Mix well.
Now add the below mentioned ingredients:

Red Chilli Powder – ½ tsp

Coriander powder – ½ tsp

Cumin powder – ½ tsp

Turmeric – ¼ tsp

Salt – 1 tbsp (as per taste)

Water – 2 tbsp (as required)

Capsicum – 1 tbsp

Onion – 1 tbsp

Carrot – 1 tbsp

Tomato – 1 tbsp

Ginger-Green Chili (crushed) – 1 tbsp

Mix well (add a little water as required).
Keep aside for 10-15 minutes.
Cooking
Take Bread slices.
Apply a layer of prepared stuffing over bread slices.
Put a Pan on Gas on medium flame.
Spread a little butter on it.
Put the bread on hot Pan (keep the stuffing side down)
Spread a little butter on bread top.

Roast on low-medium flame.

Roast both sides.

Roast till golden brown color.
Suji Toast is ready.
Recipe Video