Sabudana Vada I Vrat Special
Sabudana Vada is a popular Indian snack made with sago/sabudana, roasted peanuts,boiled potatoes and some spices. Sabudana vada is a fasting recipe. Sabudana vada is also served as a street food and tea-time snack in many parts of India, especially in Maharashtra. It is super easy to make at home. Sabudana vada is usually, served during fasting and festival season across India. Sabudana vada is a crunchy, tasty and spongy vada which will fill your stomach but you will certainly crave for more and more.
Ingredients – Interesting facts
Ginger
Ginger is a rhizome (an underground stem) and not a root.
India is the largest producer of Ginger.
In India, use of ginger in medicine goes back to ancient times.
Its generic name is "Zingiber". It is derived from the Greek word "zingiberis", which comes from the Sanskrit name of the spice, "singabera".
Chilli
Chillies are natural pain killers.
National Chili Day is celebrated in U.S. on 4th Thursday in February.
Birds are immune to hotness of Chillies.
Hottest part of Chilli are its interior veins, and not its seeds.
Cumin seeds
Cumin is believed to be originated from Egypt.
It is a drought-tolerant crop and grows in tropical regions.
Although it is called Cumin Seed, it is basically fruit of the cumin plant.
It is commonly known as Jeera in India.
Around 70% of the world's cumin production is done in India.
Salt
Salt is the most common ingredient in our kitchen.
It is present in each and every cell of our body.
Its Latin name is Sal from which the word "salary" is derived. It is believed that in the ancient times, the roman soldiers were paid in salt.
It is essential for life, but its excess intake poses health risk.
Recipe Details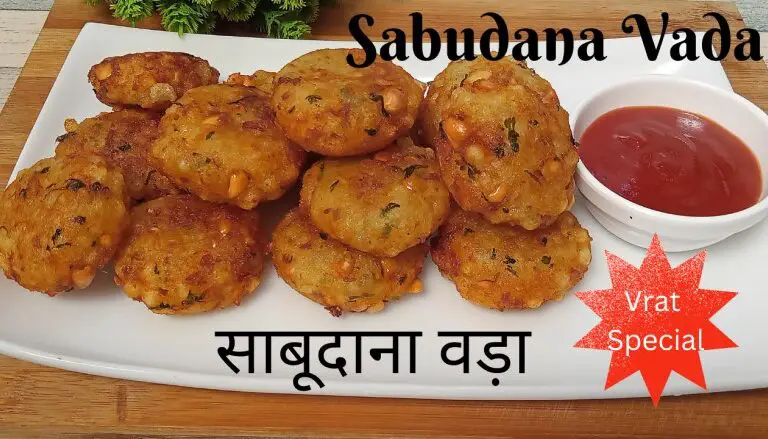 Crispy Sabudana Vada
Instructions
Sabudana Soaking
Take 1/2 Cup Sabudana in a bowl.
Wash 2-3 times.
Soak for 4 -5 hours
After 5 hours, drain the water completely.
Sabudana Mix Preparation
Take soaked and drained sabudana in a bowl.
Add the below mentioned ingredients:

Boiled Potato – 3 nos
Crushed ginger – 1 tbsp
Green chilli – 1 tsp
Roasted Peanuts – ¼ cup
Roasted cumin powder – 1 tsp
Salt – 1 tsp (as per taste)
Rice flour – 3 tbsp
Coriander leaves – ¼cup

Mix it well.
Shape the mixture as vadas.
Frying
Heat oil on medium flame.
Put vadas in hot oil.
Flip after 2-3 minutes.
Fry both sides till golden brown and crisp.
Sabudana Vada is ready
Note
If making for fasting:

Use Sentha namak in stead of salt

Do not add Rice flour
Recipe Video