Crispy Paneer Popcorn with Secret Sprinkle masala I Paneer Nuggets
Paneer Popcorn is easy to make crispy snack. It is one of the best crunchy and delicious appetizers. For serving during parties, These paneer nuggets can be kept in fridge after coating the paneer pieces, and then can be deep fried later on as per need.
Ingredients – Interesting facts
Paneer
Paneer is also known as Cottage cheese. But unlike other common cheese, it does not melt.
It can be made by curdling the milk with the help of lemon or vinegar and then draining the liquid.
Its texture ranges from soft and spongy to slightly firm and depends on for how long paneer is pressed after draining the liquid.
It is highly perishable product because of high moisture content.
It is an excellent source of protein. For vegetarians, it is a good alternative of meat products.
Chilli
Chillies are natural pain killers.
National Chili Day is celebrated in U.S. on 4th Thursday in February.
Birds are immune to hotness of Chillies.
Hottest part of Chilli are its interior veins, and not its seeds.
Salt
Salt is the most common ingredient in our kitchen.
It is present in each and every cell of our body.
Its Latin name is Sal from which the word "salary" is derived. It is believed that in the ancient times, the roman soldiers were paid in salt.
It is essential for life, but its excess intake poses health risk.
Ginger
Ginger is a rhizome (an underground stem) and not a root.
India is the largest producer of Ginger.
In India, use of ginger in medicine goes back to ancient times.
Its generic name is "Zingiber". It is derived from the Greek word "zingiberis", which comes from the Sanskrit name of the spice, "singabera".
Garlic
The intense smell and pungent taste of garlic comes from the large quantity of sulphur in it.
It has a great importance in Ayurveda.
Garlic is one of the oldest food flavorings used in ancient times.
Garlic is one of the oldest cultivated crops.
National Garlic Day is celebrated on April 19th in USA.
Black peppercorns
Black Pepper comes from the dried fruit peppercorn.
Black Pepper is mainly produced in India, Vietnam, Brazil and Indonesia.
Black Peppercorns are green when harvested, and change color while drying.
Pepper loses its flavor and aroma through evaporation. For the best flavor, it may be right before consumption.
As it was so expensive, it was mostly eaten by the wealthy in the past.
Sugar
Kids' sugar cravings are rooted in biology. Sugar is the only taste that humans are born craving.
It is used as a food preservative as well.
Natural source of sugar are sugarcane, fruits, honey, dates etc.
Initially, sugar was so rare and expensive only royalty could afford it—and in very small quantities at that.
Recipe Details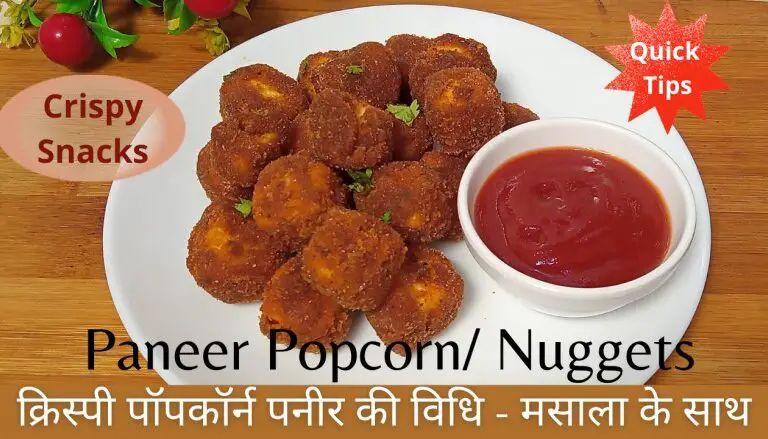 Crispy Paneer Popcorn
Marination
Crumb Coating
Sprinkle Paneer Popcorn Masala
Instructions
Paneer Marination
Take 200 gram Paneer.
Cut into small cubes.
Now, take a bowl and add the below mentioned ingredients:

Paneer cubes
Red chilli powder– 1 tsp
Turmeric powder– ¼ tsp
Salt -1/2 tsp as per taste
Crushed ginger-garlic– 1 tbsp
Mixed herbs– 1 tsp
Black pepper powder– ½ tsp
Oil – 1 tbsp

Mix well.
Ensure that paneer cubes do not break.
Marinate the paneer mix for 20 minutes.
Crumb Coating
Take a bowl.
Add the below mentioned ingredients:

Plain flour/Maida– 4 tbsp
Corn flour– 4 tbsp
Red chilli powder– 1 tsp
Salt– ½ tsp as per taste
Black pepper powder– ½ tsp
Soya sauce  – 1 tsp
Schezwan chutney – 1 tsp

Mix well.

Add water and prepare lump free, flowing consistency batter.

Crumb coating  batter is ready.
Sprinkle Masala Preparation
Take a bowl.
Add the below mentioned ingredients:

Powdered sugar – 1 tbsp
Red chilli powder – ½ tsp
Chaat masala – ½ tsp
Black pepper powder  – ¼ tsp

Mix well.
Sprinkle Masala is ready.
Frying
Dip marinated paneer cubes in crumb coating batter.
Take it out and coat with bread crumbs.
Dip again in batter and coat with bread.
Deep fry on medium flame till golden brown and crisp.
Take it out.
Sprinkle a little prepared Sprinkle masala.
Paneer Nuggets / Popcorn is ready.
Note
Instead of bread crumbs, crushed Cornflakes can be used.
Double coating method increases crispiness.
Recipe Video