Crispy Sooji ke Pakode I Instant Rava Pakoda I Semolina Pakoda Fritter
Suji/Rawa Pakoda recipe is an easy and simple deep fried snacks recipe made with Suji, curd and seasoned with spices and veggies. It is perfect tea time snacks. Its recipe is very simple, easy and quick to make at home. Suji pakoda is a crispy snacks with a soft inside. We can add any veggies in this pakoda. Serve with tomato sauce and coriander mint chutney. All family members will love it.
Ingredients – Interesting facts
Onion
The oldest know onion harvest dates back to around 5,000 BC, over 7,000 years ago!
The sulfuric compounds in onions cause is to cry when we chop them. Chilling it before cutting reduced this effect.
It was used by Athletes and soldiers in ancient civilizations as a source of power.
These are some of the oldest vegetables that were used by the first modern civilizations.
Ginger
Ginger is a rhizome (an underground stem) and not a root.
India is the largest producer of Ginger.
In India, use of ginger in medicine goes back to ancient times.
Its generic name is "Zingiber". It is derived from the Greek word "zingiberis", which comes from the Sanskrit name of the spice, "singabera".
Chilli
Chillies are natural pain killers.
National Chili Day is celebrated in U.S. on 4th Thursday in February.
Birds are immune to hotness of Chillies.
Hottest part of Chilli are its interior veins, and not its seeds.
Cumin seeds
Cumin is believed to be originated from Egypt.
It is a drought-tolerant crop and grows in tropical regions.
Although it is called Cumin Seed, it is basically fruit of the cumin plant.
It is commonly known as Jeera in India.
Around 70% of the world's cumin production is done in India.
Salt
Salt is the most common ingredient in our kitchen.
It is present in each and every cell of our body.
Its Latin name is Sal from which the word "salary" is derived. It is believed that in the ancient times, the roman soldiers were paid in salt.
It is essential for life, but its excess intake poses health risk.
Recipe Details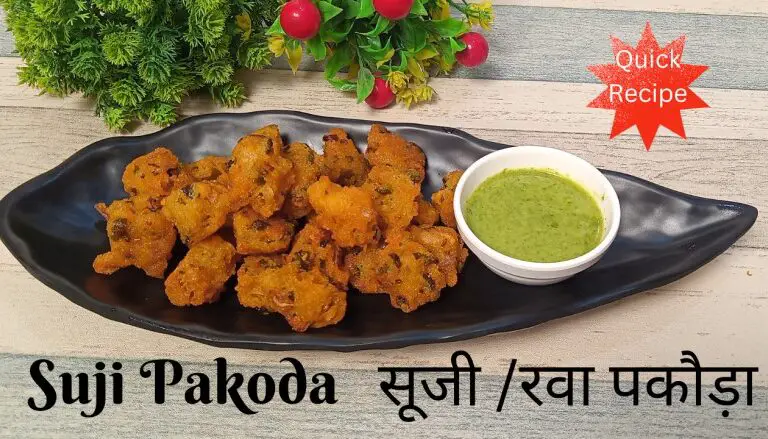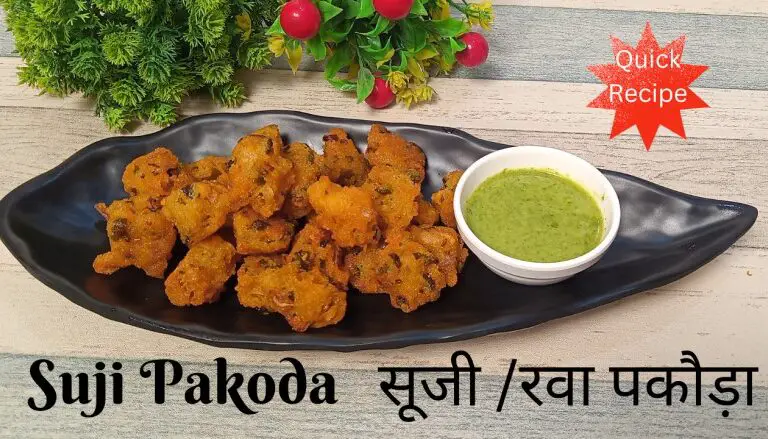 Suji Pakoda
Instructions
Suji Mix Preparation
Take a bowl.
Add the below mentioned ingredients:

Suji/Rawa – 1 cup
Curd – ¼ cup
Onion – ¼ cup
Cupsicum – ¼ cup
Coriander leaves – 2 tbsp
Ginger+green chilli – 1 tbsp
Cumin seeds – ½ tsp
Red chilli powder – ½ tsp
Coriander powder – ½ tsp
Roasted cumin powder – ½ tsp
Turmeric powder – ¼ tsp
Salt– 1 tsp (as per taste)
Water – ½ cup

Mix well
Keep aside for 10 minutes.
Deep fry
Put oil in a pan.
Keep gas on medium flame.
Check if oil is properly heated.
Take a little suji mix and give it shape of pakoda.
Put it in properly heated oil.
Deep fry till golden brown colour.
Suji/Rawa Pakoda is ready.
Recipe Video