Shahi paneer is one of the famous paneer recipe in India. Its major ingredients are Paneer, Tomato, Cream and Indian spices.
Ingredients – Interesting facts
Paneer
Paneer is also known as Cottage cheese. But unlike other common cheese, it does not melt.
It can be made by curdling the milk with the help of lemon or vinegar and then draining the liquid.
Its texture ranges from soft and spongy to slightly firm and depends on for how long paneer is pressed after draining the liquid.
It is highly perishable product because of high moisture content.
It is an excellent source of protein. For vegetarians, it is a good alternative of meat products.
Cumin seeds
Cumin is believed to be originated from Egypt.
It is a drought-tolerant crop and grows in tropical regions.
Although it is called Cumin Seed, it is basically fruit of the cumin plant.
It is commonly known as Jeera in India.
Around 70% of the world's cumin production is done in India.
Cardamom
Cardamom is also one of the world's oldest spices – cultivated for more than 4000 years.
Cardamom is a universally popular spice.
Ancient people believed cardamom had supernatural powers and that it could drive out evil spirits.
According to Chinese tradition, drinking cardamom tea is the secret to long life.
There are two widely known form of Cardamom. They are the Black Cardamom and the Green Cardamom.
Ginger
Ginger is a rhizome (an underground stem) and not a root.
India is the largest producer of Ginger.
In India, use of ginger in medicine goes back to ancient times.
Its generic name is "Zingiber". It is derived from the Greek word "zingiberis", which comes from the Sanskrit name of the spice, "singabera".
Garlic
The intense smell and pungent taste of garlic comes from the large quantity of sulphur in it.
It has a great importance in Ayurveda.
Garlic is one of the oldest food flavorings used in ancient times.
Garlic is one of the oldest cultivated crops.
National Garlic Day is celebrated on April 19th in USA.
Onion
The oldest know onion harvest dates back to around 5,000 BC, over 7,000 years ago!
The sulfuric compounds in onions cause is to cry when we chop them. Chilling it before cutting reduced this effect.
It was used by Athletes and soldiers in ancient civilizations as a source of power.
These are some of the oldest vegetables that were used by the first modern civilizations.
Tomato
It is the state vegetable of New Jersey.
Its juice is state beverage of Ohio.
Tomato seedlings have been grown in space.
The world's largest tomato tree was grown in the experimental greenhouse at Walt Disney World Resort.
Tomatoes aren't always red. They can be yellow, pink, purple, black and even white.
La Tomatina is an annual festival in Spain, where people throw tomatoes at each other.
Chilli
Chillies are natural pain killers.
National Chili Day is celebrated in U.S. on 4th Thursday in February.
Birds are immune to hotness of Chillies.
Hottest part of Chilli are its interior veins, and not its seeds.
Salt
Salt is the most common ingredient in our kitchen.
It is present in each and every cell of our body.
Its Latin name is Sal from which the word "salary" is derived. It is believed that in the ancient times, the roman soldiers were paid in salt.
It is essential for life, but its excess intake poses health risk.
Sugar
Kids' sugar cravings are rooted in biology. Sugar is the only taste that humans are born craving.
It is used as a food preservative as well.
Natural source of sugar are sugarcane, fruits, honey, dates etc.
Initially, sugar was so rare and expensive only royalty could afford it—and in very small quantities at that.
Recipe Details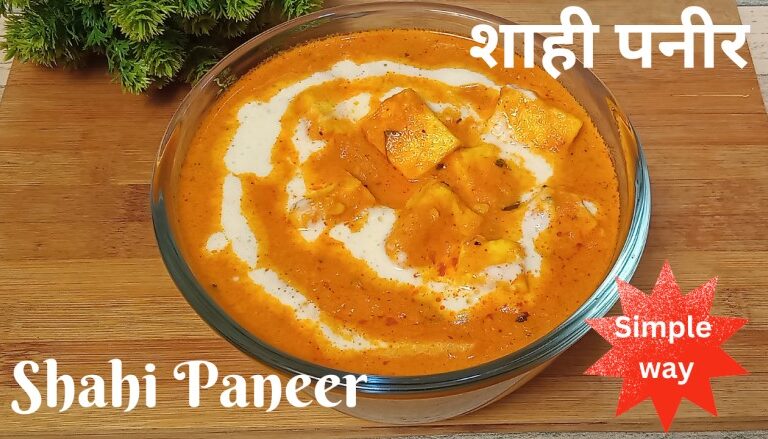 Restaurant Style Shahi Paneer
Masala Preparation
Cooking
Instructions
Masala Preparation
Put a pan on gas stove.
Add 1 tbsp butter.
Once butter melts, add the below mentioned ingredients:

Cumin seeds – ½ tsp
Cinnamon stick – 1 inch
Clove – 4 nos
Green cardamom – 4 pods
Black cardamom – 1 pod
Ginger – 1 inch
Garlic – 8-10 cloves

Saute for 10-20 sec on low flame.
Now add the below mentioned ingredients:

Onion – 2 nos
Tomato – 4 nos
Green chilli – 2 no
Cashew nut – 12-15 nos
Salt – 1 tsp
Water – 1½ cup

Cook for 15-20 mins on low flame with lid covered.
Allow it to cool.
Blend and sieve it.
Masala is now ready.
Cooking
Put a pan on tawa.
Add Oil – 2 tbsp.
Once heated, add the below mentioned ingredients:

Kashmiri red chilli powder – 1 tsp
Turmeric powder – ½ tsp
Coriander powder – ½ tsp
Dry fenugreek leaves – 1 tsp

Saute on low flame for 10-15 sec.
Now add 250 gm paneer cubes.
Saute for 1-2 min on low flame.
Now add the prepared mixture.
Mix gently.
Add Water – ½ cup and Salt – ½ tsp (as per taste).
Cover the lid and cook on low flame for 10 minutes.
Now add Sugar – 1 tsp and Cream/malai – ¼ cup.
Mix well and further Cook for 5 minutes.
Shahi Paneer is ready
Recipe Video