Suji Cake in Pressure cooker I Eggless Rawa cake I कुकर में बनाएं सूजी केक | No Maida No Oven
Rava cake recipe is very easy and simple tea time cake recipe made with suji/rava and tutti-frutti. Suji/rava cake which is made from simple things already present in every kitchen. Egg is not used in its preparation.
Ingredients – Interesting facts
Milk
It is white because of its fat content.
It will stay fresher if you add salt.
It is the only food that you can survive wholly on.
The world's rarest cheese is made from donkey milk.
June is National Dairy Month.
On a dairy farm, a farmer's day begins and ends with milking the cows.
Vinegar
Vinegar is an acidic liquid produced through fermentation.
Because of its acetic acid content, it is used as a preservative.
The word "vinegar" comes from the Old French word "vinaigre", meaning "sour wine."
Fruit vinegars are made from fruit wines.
White vinegar is often used as a household cleaning agent.
Sugar
Kids' sugar cravings are rooted in biology. Sugar is the only taste that humans are born craving.
It is used as a food preservative as well.
Natural source of sugar are sugarcane, fruits, honey, dates etc.
Initially, sugar was so rare and expensive only royalty could afford it—and in very small quantities at that.
Recipe Details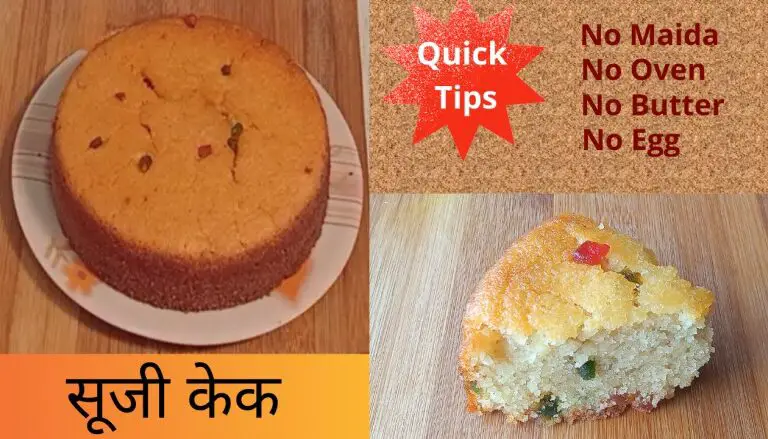 Suji Cake
Instructions
Tutti-frutti mix preparation
Take a bowl.
Add 2 tbsp Tutti-frutti and 1 tbsp refined flour.
Mix properly.
Batter Preparation
Take 1 cup Suji (Rawa).
Grind it.
Take 3/4 cup milk in a bowl and add grinded suji.
Mix properly and keep aside for 20 minutes.
Take another bowl.
Add 1/2 cup milk and 1 tbsp Vinegar.
Mix together and keep aside for 5 minutes. This mix will now act as Buttermilk.
Now take suji/rawa mix and add the prepared buttermilk.
Add the below mentioned ingredients:

Powdered sugar-1/2 cup
Refined oil-1/2 cup
Baking powder-1tsp
Baking soda-1/2 tsp
Vanilla essence-1 tsp

Mix it properly.
Now add refined flour mixed tutti-frutti.
Batter is ready.
Preheating
Make a layer of salt inside a Pressure Cooker and heat it.
Place a stand and preheat the cooker on medium flame for 15min.
Without whistle and gasket, close the lid.
Baking
Take cake tin mould.
Brush it with little oil or butter.
Place butter paper and brush little oil over it.
Transfer the batter to prepared the mould.
Keep the cake tin in preheated cooker for 50-60 min on medium flame.
After 50 min, insert a knife or toothpick in cake. If knife come out clean, then cake is ready.
Cool the cake and unmould.
Note
All ingredients should be on room temperature.
Do'nt over mix the batter.
Lemon juice can be used  instead of vineger.
Only use unflovour oil.
Recipe Video