2 Easy Egg mayo sandwich Recipe || Boiled Egg Mayonnaise Sandwich
The egg mayo sandwich is super easy and quick recipe. This is very healthy breakfast recipe.
Ingredients – Interesting facts
Egg
During incubation, Hen turns the eggs on a regular basis to scoop under the egg and roll it toward her.
Older hen lays larger egg.
Brown eggs are more expensive.
June 3rd is celebrated as National Egg Day in USA.
Onion
The oldest know onion harvest dates back to around 5,000 BC, over 7,000 years ago!
The sulfuric compounds in onions cause is to cry when we chop them. Chilling it before cutting reduced this effect.
It was used by Athletes and soldiers in ancient civilizations as a source of power.
These are some of the oldest vegetables that were used by the first modern civilizations.
Chilli
Chillies are natural pain killers.
National Chili Day is celebrated in U.S. on 4th Thursday in February.
Birds are immune to hotness of Chillies.
Hottest part of Chilli are its interior veins, and not its seeds.
Black peppercorns
Black Pepper comes from the dried fruit peppercorn.
Black Pepper is mainly produced in India, Vietnam, Brazil and Indonesia.
Black Peppercorns are green when harvested, and change color while drying.
Pepper loses its flavor and aroma through evaporation. For the best flavor, it may be right before consumption.
As it was so expensive, it was mostly eaten by the wealthy in the past.
Salt
Salt is the most common ingredient in our kitchen.
It is present in each and every cell of our body.
Its Latin name is Sal from which the word "salary" is derived. It is believed that in the ancient times, the roman soldiers were paid in salt.
It is essential for life, but its excess intake poses health risk.
Lemon
Lemons are a fruit produced by a lemon tree.
The name 'Lemon' has been derived from the Asian word which means 'sour fruit'.
The sour taste of Lemon is because of its citric acid content.
Lemon juice can be used to make beverages, like cocktails, lemonade and soft drinks.
In early times, lemons used to be so rare that wealthy people used to present lemons to each other.
Lemon trees produce lemons throughout the year.
Because of high level of acidity, Lemon is also used for cleaning stains around the house.
Lemon Festival is celebrated in France in the month of February.
Tomato
It is the state vegetable of New Jersey.
Its juice is state beverage of Ohio.
Tomato seedlings have been grown in space.
The world's largest tomato tree was grown in the experimental greenhouse at Walt Disney World Resort.
Tomatoes aren't always red. They can be yellow, pink, purple, black and even white.
La Tomatina is an annual festival in Spain, where people throw tomatoes at each other.
Recipe Details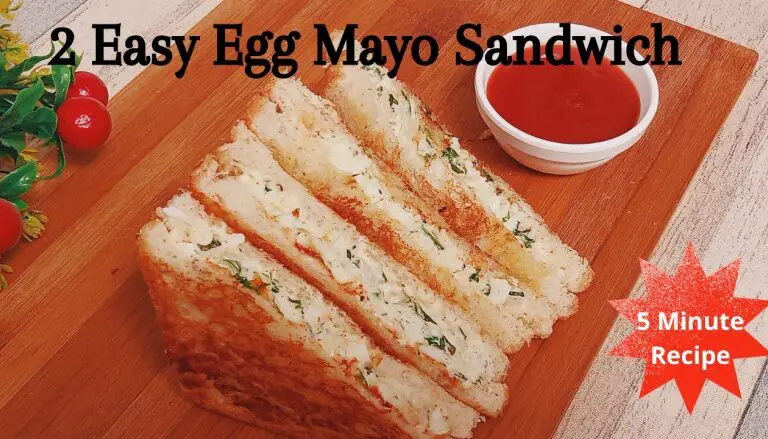 Egg Mayo Sandwich
Stuffing (for Egg Mayo Sandwich) Preparation
Stuffing (for Sliced Egg Sandwich) Preparation
Instructions
Egg Mayo Sandwich Preparation
Take 2 nos. boiled eggs in a bowl.
Mash it.
Add below mentioned ingredients:

Chopped Onion – 2 tbsp
Chopped Green Chilli – 1 tsp
Coriander leaves- 1 tbsp
Mayonnaise- 2 tbsp
Black pepper powder – 1/4 tsp
Salt – 1/4 tsp (as per taste)
Lemon juice – 1 tsp

Mix well.
Egg mixture is ready.
Take 4 nos bread slices.
Spread egg mixture on them.
Sprinkle little red chilli powder and mixed herbs.
Cover it with another bread slice.
Keep a Tawa on low flame.
Apply a little butter on tawa.
Place sandwiches and spread little butter.
Toast both side till brown colour.
Egg mayo sandwich is ready.
Sliced Egg Sandwich Preparation
Apply a little butter on hot tawa.
Roast 4 nos breads.
Take a bowl.
Add the below mentioned ingredients:

Mayonnaise – 2 tbsp
Coriander leaves –  1 tbsp
Black pepper powder- 1/4 tsp
Salt – 1/4 tsp (as per taste)

Mix well.
Mayonnaise spread is ready.
Take 2 nos. boiled eggs.
Cut in slices.
Now take 2 nos. roasted bread.
Spread Mayonnaise spread on it.
Arrange the slices of tomato, onion, egg over them.
 Sprinkle a little black pepper powder, salt, chaat masala.
Now apply red chilli sauce over remaining roasted breads.
Put these breads over veg slices.
Sliced Egg Sandwich is ready.
Recipe Video