Mango Ice Cream I Mango Ice Cream with Condensed Milk I Eggless Mango Ice Cream
Homemade Mango ice cream is the best ever creamy frozen dessert. It is rich, creamy and perfectly sweet.
Ingredients – Interesting facts
Mango:
Mango is one of the ancients' fruit found in India. It is said that around 5000 years ago, the Cultivation of Mango started in Eastern Asia.
Mango is delicious and considered as "King of Fruits".
India is termed as the "Mango Capital of the World" as it tops the list of Mango producing countries.
In 2010, Bangladesh declared the Mango tree as its National Tree.
Mango is National furit of India, Pakistan, and the Philippines.
Some mango tree species can live up to 300 years and continuously produce fruit.
Whipping Cream Powder
It is mostly used to prepare fluffy and spreadable icing at home and used as topping cream, which is super easy to make. It has rich, fatty and creamy flavor.
Milk
It is white because of its fat content.
It will stay fresher if you add salt.
It is the only food that you can survive wholly on.
The world's rarest cheese is made from donkey milk.
June is National Dairy Month.
On a dairy farm, a farmer's day begins and ends with milking the cows.
Condensed Milk
It is whole milk reduced by evaporation to a thick consistency, with sugar added.
It's rich and thick, with a caramel color and a super-sweet flavor.
It has very viscous, opaque, and syrupy texture.
Recipe Details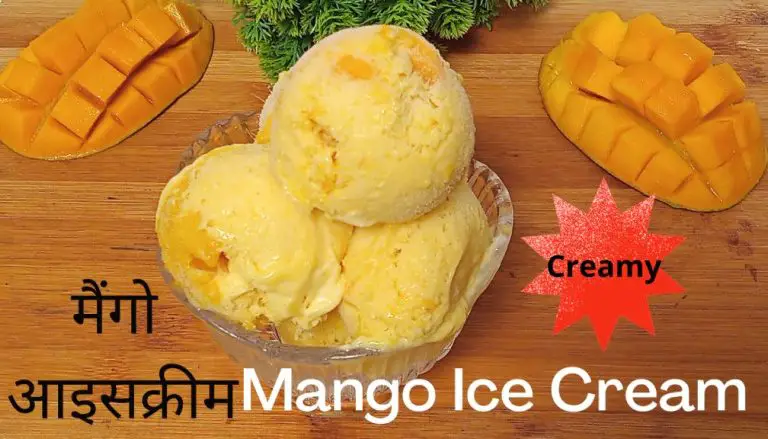 Mango Ice Cream
Instructions
Puree Preparation
Take 1 Cup mango.
Blend it smooth.
Mango puree is ready.
Add Whipping cream powder  (½ cup) and Chilled Milk (½ cup).
Whisk it.
Beat for 3-4 minutes. Beat until soft peak.
Add Condensed milk (½ cup) and Mango puree (1 cup).
Mix well.
Freezing
Pour the ice cream mixture into container.
Mix chopped mangoes.
Decorate with mango puree.
Cover with cling wrap.
Close the container lid.
Keep it in freezer for 8-9 hours or overnight.
Mango Ice Cream is ready
Note
Covering with cling wrap helps in avoiding crystal formation.
Recipe Video