Shikanji Masala || Nimbu Shikanji || Shikanji Masala Powder
Shikanji is the Indian cooling and lemon based refreshing drink in the summer season. It is a traditional drink which cheer up instantly. This easy beverage can be made in just 5 minutes. The Shikanji Masala can be stored for long and be used for making the refreshing drink instantaneously.
Ingredients – Interesting facts
Lemon
Lemons are a fruit produced by a lemon tree.
The name 'Lemon' has been derived from the Asian word which means 'sour fruit'.
The sour taste of Lemon is because of its citric acid content.
Lemon juice can be used to make beverages, like cocktails, lemonade and soft drinks.
In early times, lemons used to be so rare that wealthy people used to present lemons to each other.
Lemon trees produce lemons throughout the year.
Because of high level of acidity, Lemon is also used for cleaning stains around the house.
Lemon Festival is celebrated in France in the month of February.
Cumin seeds
Cumin is believed to be originated from Egypt.
It is a drought-tolerant crop and grows in tropical regions.
Although it is called Cumin Seed, it is basically fruit of the cumin plant.
It is commonly known as Jeera in India.
Around 70% of the world's cumin production is done in India.
Black peppercorns
Black Pepper comes from the dried fruit peppercorn.
Black Pepper is mainly produced in India, Vietnam, Brazil and Indonesia.
Black Peppercorns are green when harvested, and change color while drying.
Pepper loses its flavor and aroma through evaporation. For the best flavor, it may be right before consumption.
As it was so expensive, it was mostly eaten by the wealthy in the past.
Black Salt
Black salt or kala namak is not really black in colour. In its crystal form, it looks purple.
It is also known as "Himalayan black salt".
Historically, it is made from the salt rocks, mined in Himalayas region.
Salt
Salt is the most common ingredient in our kitchen.
It is present in each and every cell of our body.
Its Latin name is Sal from which the word "salary" is derived. It is believed that in the ancient times, the roman soldiers were paid in salt.
It is essential for life, but its excess intake poses health risk.
Ginger
Ginger is a rhizome (an underground stem) and not a root.
India is the largest producer of Ginger.
In India, use of ginger in medicine goes back to ancient times.
Its generic name is "Zingiber". It is derived from the Greek word "zingiberis", which comes from the Sanskrit name of the spice, "singabera".
Sugar
Kids' sugar cravings are rooted in biology. Sugar is the only taste that humans are born craving.
It is used as a food preservative as well.
Natural source of sugar are sugarcane, fruits, honey, dates etc.
Initially, sugar was so rare and expensive only royalty could afford it—and in very small quantities at that.
Cardamom
Cardamom is also one of the world's oldest spices – cultivated for more than 4000 years.
Cardamom is a universally popular spice.
Ancient people believed cardamom had supernatural powers and that it could drive out evil spirits.
According to Chinese tradition, drinking cardamom tea is the secret to long life.
There are two widely known form of Cardamom. They are the Black Cardamom and the Green Cardamom.
Recipe Details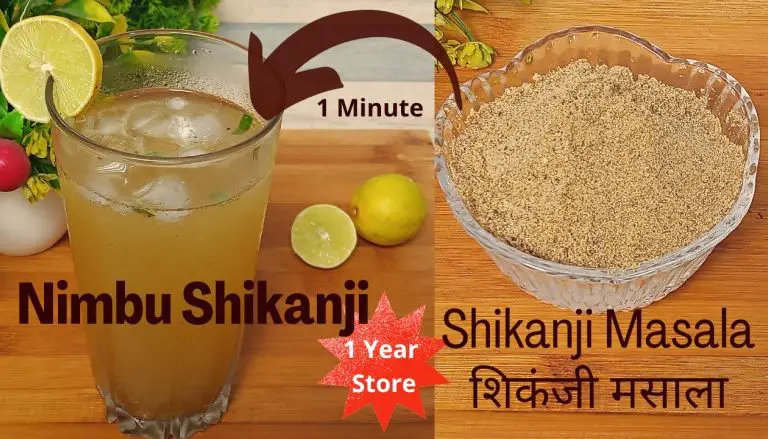 Shikanji Masala
Shikanji Masala
Shikanji Preparation
Instructions
Shikanji Masala Preparation
Roast 2 tbsp Cumin seeds on low flame for 2-3 minutes.
Cool it completely.
Mix the below mentioned ingredients:

Cooled roasted Cumin seeds
Unroasted cumin seeds – 2 tbsp
Black Pepper – 1½ tbsp
Green Cardamom – 2 pods
Black Salt – 2 tsp
Salt – 1 tsp
Chaat masala – 1 tsp
Dry Ginger powder – 1 tsp

Grind i.
Shikanji Masaala is ready.
Storage
Store for months in air tight container.
Shikanji Preparation
Take a glass.
Add ice cubes, 1 tsp Shikanji masala, 1 tsp Powdered Sugar , 1 tbsp Lemon juice and chilled water (1 glass).
Mix it well.
Masala Nimbu Shikanji is ready.
Recipe Video