Garam masala is a wonderfully versatile Indian seasoning blend that will bring an incredible depth of flavor to a large variety of dishes. It is a blend of spices rather than a single spice. It is extensively used in Indian Cuisine, especially in Northern India. All the spices are roasted to release their aromatic flavors. Subsequently they are ground to make its powder form. "Garam" indicates warm and "Masala" indicates spice.
Ingredients – Interesting facts
Salt
Salt is the most common ingredient in our kitchen.
It is present in each and every cell of our body.
Its Latin name is Sal from which the word "salary" is derived. It is believed that in the ancient times, the roman soldiers were paid in salt.
It is essential for life, but its excess intake poses health risk.
Chilli
Chillies are natural pain killers.
National Chili Day is celebrated in U.S. on 4th Thursday in February.
Birds are immune to hotness of Chillies.
Hottest part of Chilli are its interior veins, and not its seeds.
Black peppercorns
Black Pepper comes from the dried fruit peppercorn.
Black Pepper is mainly produced in India, Vietnam, Brazil and Indonesia.
Black Peppercorns are green when harvested, and change color while drying.
Pepper loses its flavor and aroma through evaporation. For the best flavor, it may be right before consumption.
As it was so expensive, it was mostly eaten by the wealthy in the past.
Cumin seeds
Cumin is believed to be originated from Egypt.
It is a drought-tolerant crop and grows in tropical regions.
Although it is called Cumin Seed, it is basically fruit of the cumin plant.
It is commonly known as Jeera in India.
Around 70% of the world's cumin production is done in India.
Cardamom
Cardamom is also one of the world's oldest spices – cultivated for more than 4000 years.
Cardamom is a universally popular spice.
Ancient people believed cardamom had supernatural powers and that it could drive out evil spirits.
According to Chinese tradition, drinking cardamom tea is the secret to long life.
There are two widely known form of Cardamom. They are the Black Cardamom and the Green Cardamom.
Recipe Details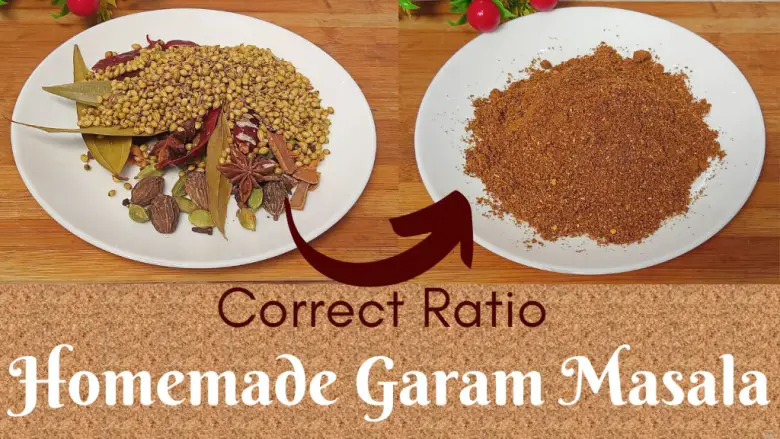 Homemade Garam Masala
Instructions
Roasting
Take Coriander seeds (5 tbsp) and Cumin seeds (3 tbsp).
Roast them together on low flame for 1-2 minutes.
Remove and keep aside.
Roast the below mentioned ingredients on low flame for 3-4 minutes:

Green Cardamom – 1 tbsp
Black Cardamom – 5 nos
Clove – 1 tsp
Black Peppercorns – 1 tsp
Star Anise – 3 nos
Cinnamon stick –2 inch
Mace – 1
Nutmeg – ½ no.
Dry Red Chilli – 7-8 nos
Bay leaves – 4-5 nos
Salt – ½ tsp

Once roasted, take them out.
Grinding
Combine all the roasted ingredients.
Allow them to cool completely.
Grind them.
Homemade garam masala is ready.
Storage
Store it in airtight container.
Recipe Video